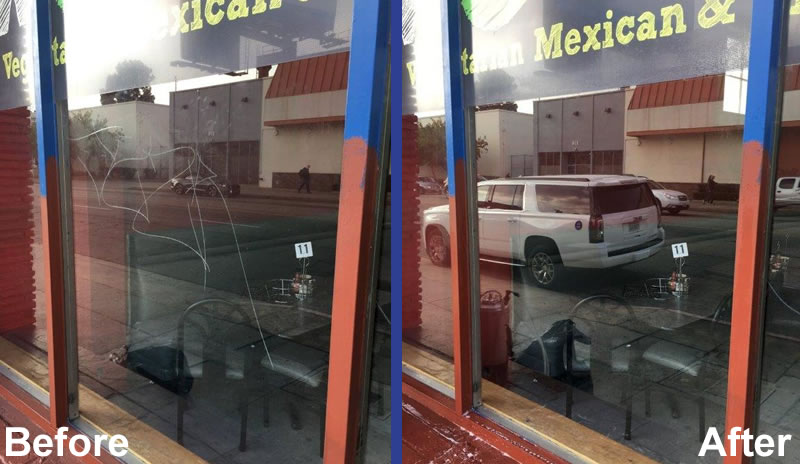 Anti Graffiti Window Film Installations
We install anti-graffiti window film in Greater Los Angeles
Anti Graffiti Film is a durable, optically clear, and removable window film product that acts as a sacrificial barrier between vandals and the surfaces the film covers, including interior and exterior glass windows, mirrors, and other non-porous surfaces like stainless steel and marble.
This clear, unnoticeable film protects surfaces from paint, key scratches, marking, and even acid-etching. When the surface is vandalized, the film can be easily removed and then replaced for clean-up.  This reduces property damage while maintaining aesthetics.
MD Window Films takes pride in our anti graffiti film installations. The extended training program that our installers go through along with using the industry's highest quality materials available to window film contractors is why MD Window Films has been trusted by many large business such as Nordstroms, Panda Express, and Subway Sandwich franchises to install Anti Graffiti Film at their locations. We specialize in high end anti graffiti film installations, MD Window Films has a satisfaction guaranteed policy.
From shopfronts to overpasses to bus stops, Anti Graffiti film is increasingly popular because it is far less expensive to replace and install a fresh layer of anti graffiti film than it is to replace what it protects. Protect your public surfaces from deliberate and unintentional damage with MD Window Films professional Anti Graffiti Film installations.
MD Window Films is a Licensed, bonded and insured window film contractor based out of Southern California. We specialize in the sales and installation of Anti Graffiti/ Graffitigard window films for commercial and residential buildings.
Why Choose MD Window Films To Install Anti Graffiti Window Film?
When you choose MD Window Films for your anti graffiti window film installation you're partnering with a local window film expert.  We have over 10 years of experience providing window tint and security film solutions to commercial buildings of all types throughout Southern California.  We are licensed, insured, and bonded and we stand behind the work we do with excellent communication and a quality installation.
If you're looking toward anti graffiti window films to reduce the expense of vandalism to your building we'll be able to provide you with expert advice and the best solution to your unique problem.
If you'd like to schedule an estimate for your anti graffiti window film installation please give us a call 310-699-9691 or fill out our online form and we'll get right back to you.