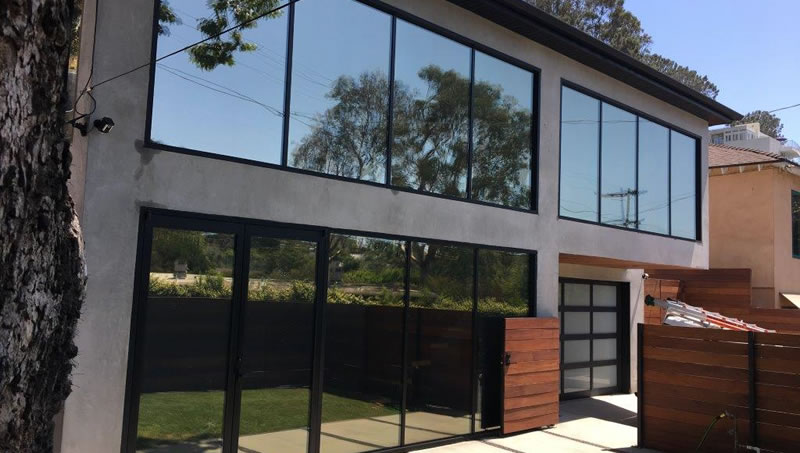 Residential Window Film Installations
Whether you're looking to increase your privacy, increase safety and security, block out harmful UV rays, increase comfort or reduce your home cooling costs there is a window film that is up to the task.  Window films are a very cost-effective high-impact upgrade for any home or residential building such as a condo, townhome, or apartment building.
MD Window Films is a window film contractor based out of Santa Monica, California and serving the Greater Los Angeles area.  We are a licensed contractor and we are also insured and bonded for your peace-of-mind.  From tinting all of the windows in your home including skylights to installing frosted privacy film on a shower door we can provide solutions for any window film needs within your home or residential building.
Residential Window Film Installations
Window Security Film For Your Home
Have you experienced a recent break-in or attempted break-in through a glass window or door?  Maybe your home has been vandalized?  It's unfortunate if this has happened to you and we are often called out to customers homes after an indecent like this has happened.
Security films are a very effective invisible solution for increasing your security.  An unprotected glass window or door can take mere seconds to break through and gain entry.  A window or door protected with a glass security film can delay a would-be thief up to several minutes making it more likely they will leave, give-up, or be caught before gaining entry.
Even if they were hitting your window with an object like a rock, baseball bat, or even a crowbar the window film will hold your window together making it very difficult to shatter.
Window Tinting And Solar Films For Your Home
In southern California the sun shines almost everyday.  The UV light can cause damage to the contents inside your home such as making your furniture and other belongings fade.  The constant sunlight can also create "hot spots" within your home and increase the load on air conditioning units to keep your home cool.
Solar window films and window tinting can block the harmful UV light, reduce glare, and make your home more cool and comfortable during those hot days.  Solar films are available in a variety of shades so you can still allow natural light through without all of the damaging effects.
Why Choose MD Window Films For Your Window Film Installation?
When you choose MD Window Films to install window tint or film in your home you're partnering with a local window film expert.  We have over 10 years of experience providing window tint and security film solutions to commercial buildings of all types.  We are licensed, insured, and bonded and we stand behind the work we do with excellent communication and a quality installation.
MD Window Films is also a Solar Gard Panorama window film dealer and we are able to offer up to a lifetime warranty for residential window film applications.  If you're looking toward window films to increase comfort or provide security improvements for your home we'll be able to provide you with expert advice and the best solution to your unique problem.
If you'd like to schedule an estimate to install window films please give us a call 310-699-9691 or fill out our online form and we'll get right back to you.