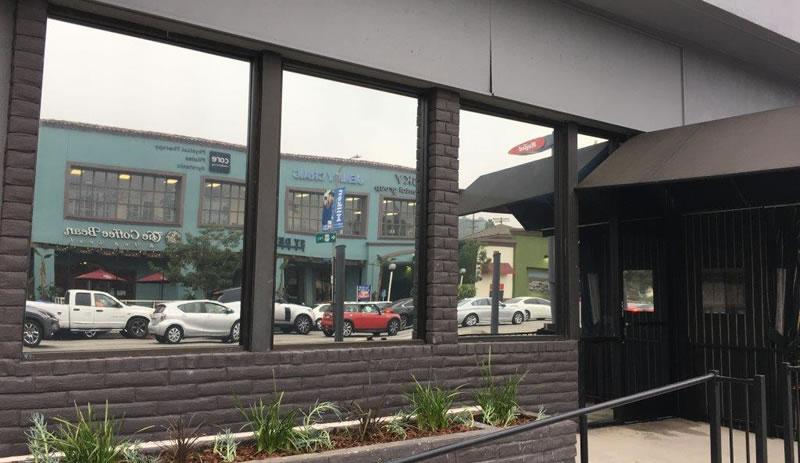 Commercial Window Tint Installations
Serving Santa Monica & Greater Los Angeles
Cooling costs are a significant expense for southern California business owners and commercial building managers.  Window tinting films provide an invisible layer of protection against the suns UV rays, reducing glare, and protecting the contents within your building.  Window tint films can help provide year-round comfort while at the same time protecting your property.
MD Window Films is a window tint film installer based out of Santa Monica, California and serving the Greater Los Angeles area.  We are a licensed contractor and we are also insured and bonded for your peace-of-mind.  We sell Solar Gard's most advanced window tinting film, Ecolux™ Low-E.  It's the perfect product for the windows in your retail store or your office, protecting your valuable merchandise and property from UV rays and working to reduce your energy costs.
Key Benefits Of Window Tint Film
Spectral selectivity lets in 68% of natural light while keeping out 52% of the sun's energy
Money and energy savings year-round on cooling and heating
UV blockers protect people and property from damaging UV rays
Our environmentally friendly Ecolux window film helps you achieve energy and carbon savings, improving building performance.  By combining a low-e coating with solar control properties, our innovative window-insulating film technology can outperform many of the leading solar control films.
Improved comfort
Smart energy savings
Natural day lighting
UV protection
Window film begins working immediately after they've been installed so you can reap the benefits right away.
Why Choose MD Window Films For Your Commercial Window Tint?
When you choose MD Window Films for your commercial window tint film installation you're partnering with a local window film expert.  We have over 10 years of experience providing window tinting solutions to commercial buildings of all types.  We are licensed, insured, and bonded and we stand behind the work we do with excellent communication and a quality installation.
MD Window Films is also a Solar Gard Panorama window film dealer and we are able to offer up to a 15 year warranty for commercial window film applications.  If you're looking toward window films to increase comfort or provide security improvements for your building we'll be able to provide you with expert advice and the best solution to your unique problem.
If you'd like to schedule an estimate to install window tint film on your windows please give us a call 310-699-9691 or fill out our online form and we'll get right back to you.