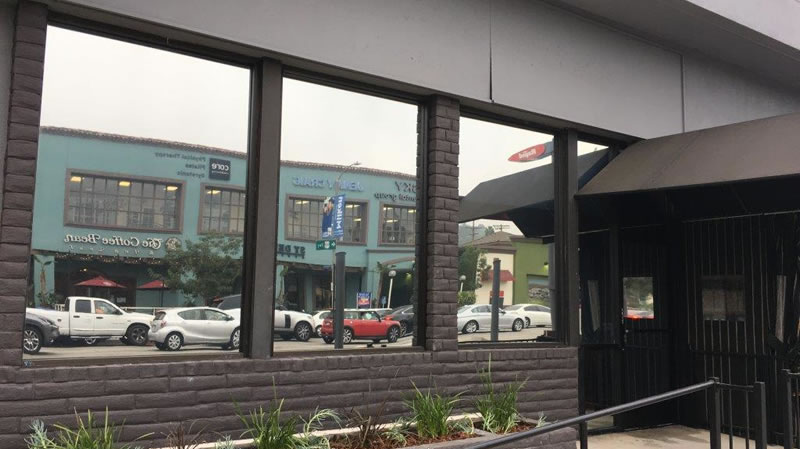 Improve Building Efficiency With Solar Window Films
We install solar window films from Santa Monica to L.A.
Improving your buildings efficiency can make your facility more comfortable for employees and customers but it can also significantly reduce your energy costs.  Solar window films are a cost effective way to improve building efficiency without large-scale hassle or expense.
MD Window Films is a licensed and insured window film contractor based out of Santa Monica, California and serving the Greater Los Angeles area.  We specialize in the installation of solar window films for commercial buildings including offices, retail stores, restaurants, car dealerships, pools, gyms, and more.  We are one of only a few Solar Gard Panorama window film dealers in the Santa Monica area.
The Panorama series of window films can reject up to 77% of the solar energy from the sun.  This makes Panorama solar films an excellent choice for commercial purposes over competing products and they also offer a much longer warranty (15 years for commercial applications) than other competing products.
Solar Window Films Solve The Following Problems
They can reduce the suns glare within your building
They can eliminate or reduce hot spots in your building
They can protect furniture or expensive merchandise from UV damage
They can work to reduce your building cooling costs
FREE Energy Analysis For Commercial Buildings
Contact MD Window Films for your FREE building energy analysis. As a Panorama window film dealer MD Window Films has access to several computer programs to help calculate your ROI from the installation of solar window films.  Solar Gard Technical Services has developed a suite of software for BIM simulations to perform energy analysis on a variety of structures, from small offices to large complex commercial buildings.
These computer programs consider and evaluate the unique qualities of your building such as your buildings exposure, square footage of glass surfaces,the type of glass, and more.  With that computer program we can project your future energy savings based upon the solar film you've selected.
Once we've calculated your projected energy savings, the program can take the energy rates including the cost of the solar film installation to establish your buildings Return on Investment.   In some cases, these Department of Energy approved programs can be used to help your building qualify for various Federal and State incentive programs.
LEED Certified Commercial Buildings
If you are looking to make improvements to your building so it can qualify as LEED certified?  Solar window films are a very cost effective way to improve the efficiency of your already existing windows without the high cost of replacement.
Why Choose MD Window Films For Your Solar Window Film?
When you choose MD Window Films to install solar window films on your building windows you're partnering with a local window film expert.  We have over 10 years of experience providing window tint and security film solutions to commercial buildings of all types.  We are licensed, insured, and bonded and we stand behind the work we do with excellent communication and a quality installation.
MD Window Films is also a Solar Gard Panorama window film dealer and we are able to offer up to a 15 year warranty for commercial window film applications.  If you're looking toward window films to increase comfort or provide security improvements for your building we'll be able to provide you with expert advice and the best solution to your unique problem.
If you'd like to schedule an estimate to install solar window films please give us a call 310-699-9691 or fill out our online form and we'll get right back to you.