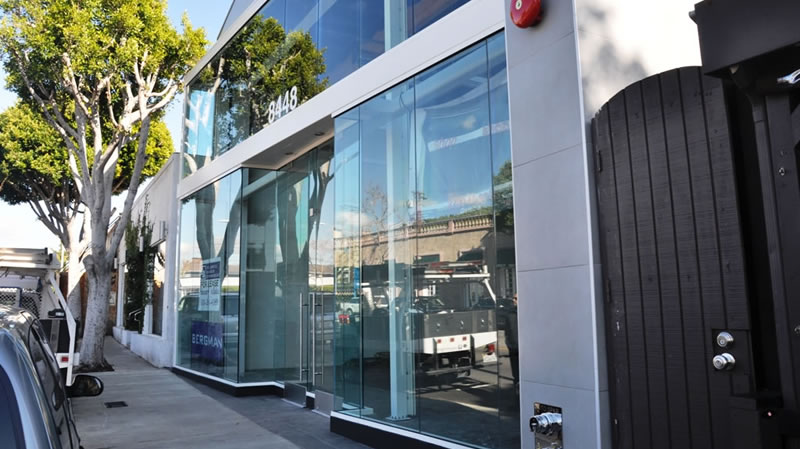 Commercial Window Film Installation
Santa Monica and Greater Los Angeles
Do you own or manage a commercial building with many windows or large spans of glass?  Window Films can help your building or establishment in a number of ways.  Window safety and security films can offer discreet protection against windows shattering a break-in attempt or vandalism.  Window tinting films can offer protection for your inventory or furniture from damaging UV light, they can prevent glare, help reduce building cooling costs, and they can also help improve your privacy.
MD Window Films is a window film contractor based out of Santa Monica, California and serving the Greater Los Angeles area.  We are a licensed contractor and we are also insured and bonded for your peace-of-mind.
We specialize in the sales and installation of various types of window films for commercial buildings.  We are a Solar Gard Panorama dealer and one of only a few dealers in the Santa Monica area.  The Panorama series is an excellent choice for commercial purposes as it offers a much longer warranty (15 years for commercial applications) than other competing products.
Whether you'd like to increase your window safety and security with a security film, reduce damage from vandals and reduce repair costs using an anti-graffiti film, or reduce your cooling costs with tint or solar films, MD Window Films will be able to help you choose the right window film product for your building and your particular needs.
Commercial Window Tints & Films We Install In Los Angeles
We can provide window film solutions to all types of commercial buildings including retail storefronts, restaurants, office spaces, car dealerships, hotels, banks, and more.  We can help you reduce cooling costs, improve security, and improve privacy.
Why Choose MD Window Films For Your Commercial Window Film?
When you choose MD Window Films for your commercial window film installation you're partnering with a local window film expert.  We have over 10 years of experience providing window tint and security film solutions to commercial buildings of all types.  We are licensed, insured, and bonded and we stand behind the work we do with excellent communication and a quality installation.
MD Window Films is also a Solar Gard Panorama window film dealer and we are able to offer up to a 15 year warranty for commercial window film applications.  If you're looking toward window films to increase comfort or provide security improvements for your building we'll be able to provide you with expert advice and the best solution to your unique problem.
If you'd like to schedule an estimate for your commercial window film installation please give us a call 310-699-9691 or fill out our online form and we'll get right back to you.